HARNESS SOLUTIONS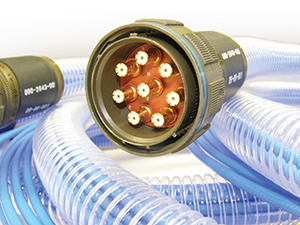 Harness with convoluted FEP ruggedization.
Teledyne Storm Microwave harness products are deployed in defense and space applications where minimal risk of failure and high levels of reliability are an absolute must.
These assemblies provide high frequency RF performance, operating up to, and above, 40GHz.
To meet the requirements of mission critical applications, harness assemblies are manufactured in a carefully controlled environment. When necessary, the coaxial cables integrated into a harness solution are terminated and tested within a class 10,000 clean room.
Harness solutions provide for "plug and play" deployment for fast installation and replacement. The keying feature of the MIL-DTL-38999 connector, for example, ensures accurate connector alignment for improved RF performance, as well as provides correct channel to channel mating, avoiding crossed connections.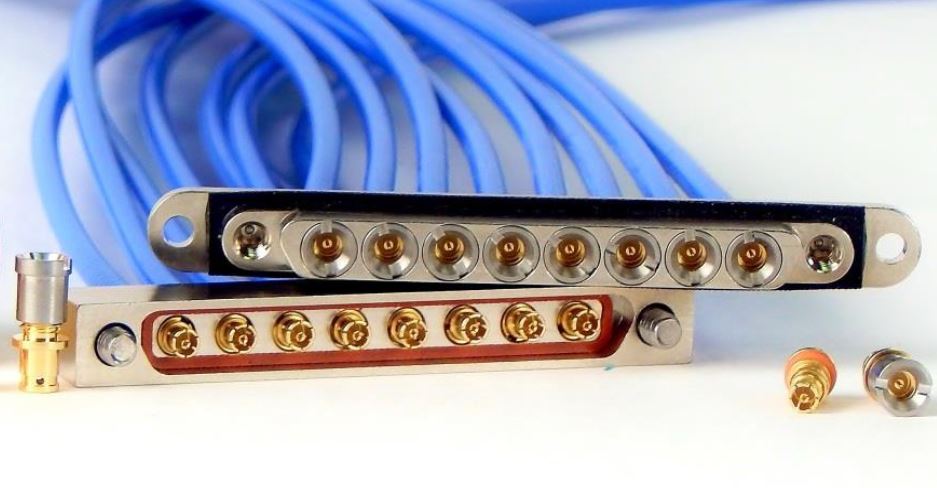 Mini-Multimate
Multi-channel interconnects can be used to solve a variety of design challenges.
Harness solutions provide a connection that
Requires minimal installation tools.
Delivers a compact connector footprint.
Removes the risk of crossed channels and misconnection
Simplifies wire management and routing.
Enables fast installation or replacement
Typical harness applications include:
Providing an RF interconnect for two system boxes
Providing RF input & output connectivity within system boxes
Simplifying connections between two electronics boxes
Our multi-channel harnesses are found in a wide range of airborne, ground, and sea-based systems, including:
Active Electronically Scanned Arrays (AESA)
Synthetic Aperture Radar (SAR)
Unmanned Aerial Vehicles (UAVs)
Test Labs & Diagnostic Units

Digital Radios
Airborne Combat Radar
Mixed-Signal Applications
Remote Sensing Satellites and Aircraft
Teledyne Storm maintains a dedicated engineering staff for harness design and manufacture, backed by Storm's more than 35 years of coaxial cable design and manufacture experience.
Our collaboration and consultation approach addresses your specific challenges. We can suggest design alternatives to address environmental, mechanical, or electrical requirements.
Design reviews can also include guidance on materials technology, as well as the most appropriate housing designs to retain the individual channel cables.
Product configurations to meet your program needs
Proven cable technology deployed in mission critical applications
Dedicated technical staff on hand to guide you through the design
In-depth connectivity expertise
In-house design qualification capabilities